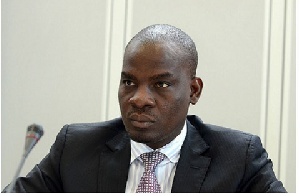 Sun, 12 Mar 2017 Source: B&FT
The Minority in Parliament says the budget statement will "create an economy of petty traders" and have also questioned the government's growth rate target of 6.3 percent as not feasible.
Finance Minister last Thursday, presented the budget statement with the aim to narrow its budget deficit to 6.5 percent of gross domestic product this year and is forecasting GDP growth of 6.3 percent

Contributing to the floor of Parliament, during the commencement of the post budget debate, Isaac Adongo, the Member of Parliament for Bolgatanga Central stated that the government cannot grow the economy when they begin to look at importation of goods and services as their major source of revenue.

He further adds that local producers do not have incentives to grow and that government is creating competition by bringing in cheaper imports.

"This budget is going to create an economy full of petty traders, an economy that will collapse the manufacturing sector, and at best, an economy that is going to export Ghanaian jobs abroad, that is the economy we are going to inherit from this government."

On the disbursement of the District Assemblies Common Fund (DACF), he maintained that the people in the districts already have earmarked development plan and it is for government to increase the DACF in order to spur growth and development at the districts.
"Let no one deceive the people of Ghana, that the people in the districts, don't know what they need and what development they need, every district has a medium term development plan developed and instituted by the communities themselves, so they know what they want, all they need now is their money. So just simply increase the DACF, empower the existing structures and they will deliver development to the basic level."

Furthermore, the minority says the budget does not fit into the country's medium-term objectives and will lead the country into difficult times.

Chairman of the Finance Committee, Dr Mark Assibey Yeboah rebuffed the Minority's assertion and indicated that interest payments for 2017 alone represented Gh?13.9billion as a result of the previous government's borrowing.

"There came to meet a debt of 9.5billion and the interest payments for 2017 alone exceeds the debt that you came to meet in 2009."
Source: B&FT