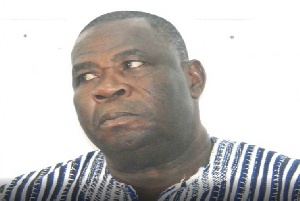 Embattled Northern Regional Chairman of the governing New Patriotic Party (NPP) Daniel Bugri Naabu , has by the close of today Tuesday May 9, 2017 to write, retract and apologize for claiming that the Upper East Regional Minister Rockson Bukari is among those who masterminded the murder of Adams Mahama.
Lawyers of the Minister, who have officially written to the Chairman, have threatened to take the matter up if by the expiration of the stated period, he fails to do as directed.

According to them, the allegations are false, for which reason he [Minister] has not in any way been indicted in the death of the former Upper East Regional Chairman of the party.

It would be recalled that Daniel Bugri Naabu, on Monday accused both Hon Rockson Bukari, the Upper East Regional Minister,and Honourable Minister of Gender, Children and Social Protection, Ms Otiko Afisa Djaba, for having a hand in the acid bath and subsequent death of the party's late Upper East Regional chairman Mahama Adams in 2015.

"You could remember Adams Mahama who certainly died when he was bathed with acid, it was through the same secret meetings …", Bugri Naabu declared in an interview with Radio XYZ while responding to allegations of bribery made against him by Gender Minister Ms Otiko whose alleged "secret" meeting he disrupted on during the weekend.

According to acerbic tongue Chairman, he is surprised the very people that orchestrated the killing of Chairman Adams are in government. "You'll be surprised that some of these people who masterminded the killing of Adams have come to take positions in the government … like the Upper East Regional Minister. He was heavily involved in the masterminded killing of Adams," Bugri told the interviewer.
Otiko is a controversial woman in the party, and was also involved in the murder of Chairman Adams. 'I'm telling you, this Adams issue, she was deeply involved, he claimed

Gregory Afoko, a younger brother of suspended National Chairman of New Patriotic Party Paul Awentami Afoko is standing trial for the murder of the late Upper East Regional Chairman since his death in 2015.

Investigators and prosecutors alike have been begging court for enough space and time to be able to gather substantial evidence beyond reasonable that that indeed, Gregory was truly involved for prosecution until the public claim by Bugri Naabu.

Some Ghanaians are calling on the Inspector General of Police, David Asante-Apeatu to immediately invite the Northern Regional Chairman to assist in unraveling the schemes that led to the death of Adams Mahama.