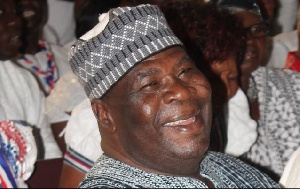 Shirad S.K Aide to the Northern Regional Chairman of the ruling New Patriotic Party (NPP) Daniel Bugri Naabu has dispelled allegations that his boss took goats, sheep and monies as bribe with promise of offering jobs.
He explained that Mr Naabu often times accepts tuber of yam from friends as a sign of good gestures but not cow, goats and sheep.

'If you say somebody visited Bugri Naabu and gave a tuber of yam, I will accept that, but Bugri Naabu has never collected sheep, goats or cow from anybody… And he has never asked anybody to bring such items to him in then name of appointment… We are serious minded people and we shouldn't jump into conclusions,' he said.

The Gender and Women Affairs Minister Otiko Afisah Djaba accused the Regional Chairman of collecting goats and sheep after he 'unruly' disrupted her meeting in the region.

But speaking on Ultimate Breakfast Show hosted by Lantam Papanko, he claimed the minister is painting his boss black just to score cheap political points.

An incensed S.K challenged Madam Otiko to back his allegations with facts.
S.K indicated that his boss has told people that he is not appointing authority but the President Nana Addo Dankwa Akufo-Addo.

'…Quite interesting and unfortunate, I think politicking is not just about leveling allegations, and I am not on your platform or any platform to level allegations against anybody. Politics is not only about growth but must be accompanied by development…My boss and I or our team will never level any allegations against anybody without concrete evidence or proof. What shows that Bugri Naabu has taken any bribe, goats or cow in connection with school feeding appointment or any sort of appointment, what/where is the evidence,' he asked.

Mr Naabu's Aide explained that the act of giving such as items to opinion leaders, chiefs and colleagues as a means of showing appreciation is allowed in the body culture of the North.

According to him, the untoward would have occurred if Mr Naabu hadn't appeared at the meeting which was to kick against a name tipped for the school feeding programme position.

'When we went there, the place was heated, and it was timely, that we arrived there if not, the Gender Minister would have created serious chaos, she was insulting everybody there,' he stated.