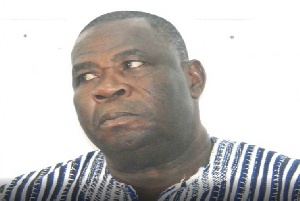 The Tamale Central Women's Organizer Ms Suraya has accused her Regional Chairman, Daniel Bugri Naabu as a celebrated political demagogue and a bribe taker.
According to the Women Organizer, Chairman Naabu is using his position to bully and exploit party members.

She said, Bugri Naabu's administration is characterised by intimidation, divide and rule, corruption, misappropriation and bribe taking.

"He has virtually succeeded in side-lining, and in some cases orchestrated the illegal suspension of party executives. 'You speak against his despicable activities in the region at the expense of your liberty as a member of New Patriotic Party in the region'. She told an Accra-based radio station.

Madam Suraya corroborated the bribery accusation leveled against her Regional Chairman Daniel Bugri Naabu by then Minister of Gender, Children and Social Protection, Ms Otiko Djaba that he (Bugri Naabu) has taken goats, sheep and cows from MMDCES hopefuls.
"Bugri is a misogynist who hates and disrespect women so much in the party", she disclosed.

"The residence of Naabu has been converted into ranch and an abattoir. His house is turned into breeding place for animals presented to him for political appointments".

She has however, disbanded the allegation by Bugri Naabu that the Gender Minister was in the region over who becomes school feeding coordinator(s).

'Otiko's meeting had nothing to do with political appointments in the region. 'Bugri's inherent bribe taking trait is what he is busily guiding jealously', but there is more than enough bribery cases in the past to support whatever I am saying, she stressed.