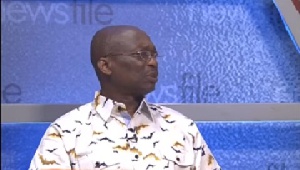 Seasoned journalist Kweku Baako Jnr. has asked the Police Service to investigate the allegations by the NPP Northern Regional Chairman, Bugri Naabu, against the Upper East Regional Minister.
Bugri Naabu has implicated the Hon. Rockson Bukari in the death of Adams Mahama and further accused the Gender Minister, Otiko Djaba, of complicitity in the scheme.

Addressing the issue on Peace FM's 'Kokrokoo', Kweku Baako labeled Bugri Naabu's claims as "nonsense" and "bogus".

According to him, it is "bogus and fraudulent" and charged the security agencies to probe him further, stating emphatically that Bugri Naabu was making empty talks.

He stated that the conduct of the NPP Northern Regional Chairman is bringing the government into disrepute and it's prudent for the party to sanction him.
Mr. Baako also found it ridiculous that the Regional Chairman of the ruling party kept silent on the matter till date if he indeed had any evidence to corroborate his claims.

He added that Bugri Naabu must be compelled to back up his claims with concrete evidence.

He further stressed that he strongly believes the allegations are not true and that the "best way to demolish this nonsense is to invite the man to bring the evidence".