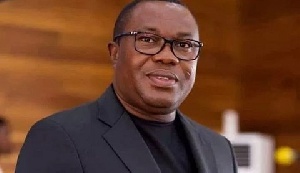 The National Chairman of the main opposition National Democratic Congress (NC), Mr Samuel Ofosu-Ampofo has been invited by the Criminal Investigations Department of the Ghana Police Service over the recent spate of fires and kidnappings in Ghana.
A letter from the CID to Mr Ofosu-Ampofo said: "The Criminal Investigations Department (CID) of the Ghana Police Service has commenced investigations into cases of kidnapping and fire outbreaks in various parts of the country. Intelligence gathered indicates that some of these kidnappings and fire outbreaks are being orchestrated by various unidentified groups, persons and individuals."

"Some of the persons picked up for interrogation and investigation have mentioned your name as part of a grand scheme designed to cause fear and panic in the country. As a result of the above information and intelligence, you are kindly requested to report to the undersigned on Thursday 9th May, 2019 at 2 p.m. to assist in our investigations."

The police administration in a statement assured the public that due processes will be followed in the investigation.
"As a result, the public and 'supporters' of Mr Ofosu-Ampofo are advised not to besiege the Police/CID Headquarters. Also, journalists are reminded to follow due protocols of relations between the media and the police on coverage of police events. Live coverage of the interrogation or interviews from the Police/CID headquarters is not permitted," the statement issued by the Police Public Affairs Directorate stated.

A few months ago, Mr Ofosu-Ampofo was heard on a leaked tape, which he claims has been doctored, giving his support to NDC supporters to attack the Chairman of the National Peace Council and the Chairperson of the Electoral Commission.

He has since been charged with conspiracy to cause harm and assault against a public officer alongside a deputy National Communication Director of the NDC, Kweku Boahen.