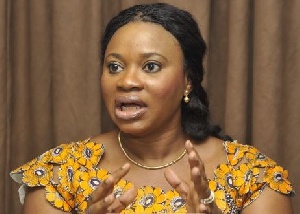 The Convention People's Party (CPP) has described the Electoral Commission (EC) as "insensitive" for setting the filing fee for presidential nominees at GHS50,000.
At an Inter-Party Advisory Committee (IPAC) meeting held in Accra on Thursday September 8, the EC announced that parliamentary candidates would have to pay GHS10,000 to file their nomination while presidential candidates are expected to part with GHS50,000.

The Commission has set 29 September as the deadline for the filing of nominations. Speaking to Class News' Kwesi Parker-Wilson, the Director of Elections for the CPP, James Kwabena Bomfeh, said the new fees were a deliberate attempt by the commission to discourage the masses from exercising their democratic rights.

"They are not sensitive to the needs and the aspirations of the people. Ghanaians are in hard times and you are asking us that if we want to sacrifice to lead this country, we should pay such exorbitant fees when the activities of the Electoral Commission are supported with the taxpayers' money. Elections are a serious matter. That is why we support the EC's budget; it is taken from the Consolidated Fund. What do they need this money for?" he asked.
Mr Bomfeh disclosed that with the exception of the governing National Democratic Congress (NDC) and the main opposition New Patriotic Party (NPP), all the other parties raised objection to the "outrageous figures".

"You see, the fact is that Ghanaians must exercise their democratic rights without necessarily making money the cost condition. No, it's an abuse of the process. And that is the more reason why the Electoral Commission does not need to raise money to run its activities [through] filing fees. If you look at the economic conditions, this is a deliberate attempt to discourage the masses from engaging and exercising their democratic right especially when they want to put themselves in service to the nation. They are making money a condition," Mr Bomfeh bemoaned.