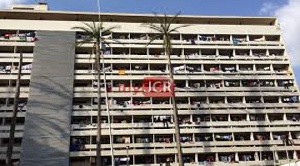 Calm has returned to the Kwame Nkrumah University of Science and Technology (KNUST) after a violent protest by the students on Monday, October 22, 2018, which led to the destruction of many properties on campus.
As early as 6:20 a.m., yesterday dozens of residents of the university were seen leaving the campus following a directive by the Ashanti Regional Security Council (REGSEC) that the school is closed down.

Our Ashanti Regional Correspondent, James Appiakorang Jnr., reported that many of the students were seen packing their belongings yesterday in preparation to leave campus before the 12-noon deadline.

Some parents were also seen on campus escorting their wards out of the school.

Busses were also spotted on campus ready to convey students to their respective destinations.

There was calm on campus as there were no commercial or academic activities ongoing, with very few lecturers in sight.
Meanwhile, President Nana Addo Dankwa Akufo-Addo yesterday summoned the National Security Minister, Albert Kan Dapaah, and the Education Minister, Dr Matthew Opoku Prempeh, to a meeting over the development at the university.

The two ministers were expected to brief the President on the situation and also inform him about measures that had been put in place to bring matters to rest.



The Ashanti Regional Security Council yesterday was also expected to meet with the relevant stakeholders in the region to find an amicable solution to the problem that triggered the Monday demonstration on campus.

Hundreds of students of KNUST last Monday staged a protest against what they described as a rule of tyranny and oppression by the management of the school.
The protest, however, turned violent later, leading to the students destroying about 30 cars and other properties.

They also burnt a number of motorbikes, broke into and ransacked some administrative offices and defaced the school walls.