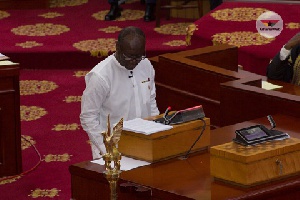 Fri, 3 Mar 2017 Source: GNA
The Ghana cedi remained relatively stable against the major trading currencies in the currency market, on account of tighter monetary policy and improved foreign exchange inflows for the period of 2016, Mr Ken Ofori-Atta, Minister of Finance revealed on Thursday.
"However, this trend was reversed in the run-up to the December elections, as demand pressures mounted. The Ghana cedi recorded a cumulative depreciation of 9.6 percent and 5.3 percent against the US dollar and the Euro, respectively.

"It appreciated by 10.0 per cent against the pound sterling in the interbank market in 2016", he told Parliament during the presentation of President Nana Addo Dankwa Akufo-Addo's maiden budget statement for 2017.

He said under the external sector, the Balance of Payments (BOP) turned surplus for the first time since 2011 due to improved current account balance.

Accordingly, there was a build-up in gross foreign assets, which supported the relative stability in the exchange rate. The BOP surplus was US$247 million, compared to a deficit of US$129 million in 2015.

Mr Ofori-Atta said the trade balance improved from a deficit of US$3.1 billion in 2015 to a deficit of US$1.7 billion in 2016 due to increased exports receipts by 7.2 percent and a decline in imports by 5.3 percent.
He said the gross foreign assets at the end of December was also estimated at US$6,161.80 million, from US$5,884.70 million at the end of December 2015, representing a build-up of US$277.07 million.

"This was sufficient to provide cover for 3.5 months of imports of goods and services, same as in December 2015.

On Fiscal Developments, the Finance Minister said the main objective of fiscal policy, as envisioned in the 2016 Budget, was to consolidate Government's finances by reducing the fiscal deficit from 6.3 percent of GDP in 2015 to 5.0 percent of GDP in 2016.

Provisional data for 2016, however, indicated that the envisioned fiscal consolidation was not achieved.

He said, as a result, total domestic revenue and grants was 12.5 percent below target (an actual of GHc33.2 billion, against a target GHc37.9 billion).
The Finance Minister said total Expenditure (including outstanding expenditure claims and arrears clearance) exceeded the target by 21.4 per cent.

"These slippages resulted in a fiscal deficit on commitment basis of 10.4 percent of GDP," he noted.

On cash basis, Mr Ofori-Atta explained that the fiscal deficit was 7.8 percent of GDP against a target of 5.0 percent of GDP with the primary balance for the period, recording a deficit of 1.4 percent of GDP, against a targeted surplus of 1.2 percent of GDP.

He said the shortfall in total Revenue and Grants was broadly attributed to the impact of energy challenges on households and firms, lower than anticipated receipts from oil due to both lower-than- programmed benchmark crude oil price and production, and non- realisation of proceeds from both tax and non-tax categories.

The Finance Minister said the total expenditures (including outstanding obligations and arrears clearance) amounted to GHc53.4 billion at end-December 2016.
Outstanding obligations of GHc4.3 billion comprise Ministries, Departments and Agencies (MDA) obligations with Ministry of Finance, which had not yet been captured on the GIFMIS.

"The outstanding obligations relate mostly to Compensation of Employees, Goods and Services, and domestically financed Capital Expenditure.

Total expenditures (including arrears clearance) amounted to GHc46.1 billion, against a target of GHc46.3 billion.

He said under Petroleum Receipts in 2016, the Ghana National Petroleum Corporation (GNPC) lifted six parcels of crude oil (consisting of the 31st to 35th Jubilee and 1st TEN liftings) on behalf of the State, and exported a total of 21,580 MMscf of gas to Ghana National Gas Company (GNGC).

He said the total crude lifted was 5,856,921 barrels of oil (4,860,462 barrels of Jubilee oil and 996,459 barrels of TEN oil). Receipts from crude oil liftings for 2016 included revenues from the sale of 4,824,417 barrels of oil from the 30th (lifted in December 2015) and the 34th Jubilee liftings, which amounted to US$207.79 million (GHc811.68 million).
The proceeds from the 35th Jubilee and 1st TEN liftings in December 2016 were received in the first quarter of 2017.

He said actual petroleum receipts for 2016 also fell short of the 2015 performance by 29.1 percent due to the continuous decline in crude oil prices, the decline in Jubilee production and lower TEN productions.
Source: GNA