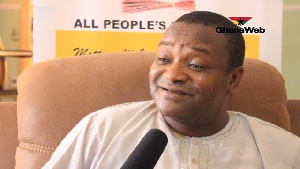 Disqualified presidential candidate of the All People's Congress (APC) is not happy about the way the Chairperson of the Electoral Commission (EC) of Ghana has treated him.
He believes Madam Charlotte has taken things very personal in his disqualification from the presidential race.

The aggrieved opposition leader told Accra-based Okay FM in interaction over his disqualification that he and Charlotte Osei used to be very close friends and does not understand why she treated him that way.

"My disqualification was a personal thing and not constitutional. The Commissioner was on Saturday in UK and sat on international platform and said Ghana was going to have a one winner and several losers and one of such losers is going to be Hassan Ayariga. It is a video recording and not audio. That means she already knows what she was going to do. This is a personal hatred. This woman is demonstrating to the world that she is above any other law in this country," he said.

When asked whether he has ever met Charlotte Osei in person before becoming a flag bearer, the disgruntled APC leader retorted, "She is an old chalewote."

However, when his attention was drawn to the fact that his response was below the belt, Mr. Ayariga quickly amended his comment and said "she is an old friend and still a friend".
But when pushed further to clarify his friendship with Charlotte Osei, he said "I didn't know her from now. Young man forget it – don't you understand English Language? When we say someone is an old friend what does it mean? She is a friend."

At this point, the host tried to find out from Mr. Ayariga whether the EC Chairperson was his school mate or old girl lover or friend, but before he could complete his statement, the aggrieved APC leader once again retorted "small boys are young – young boys are small."

On whether the two have some personal scores to settle, Mr. Ayariga responded "your profession has nothing to do with personal scores to settle or whatever. You are there to make sure that Ghana elections are conducted in a peaceful, free and fair manner. If you cannot do it you exit. If you bring personal relation and personal problems to your profession then you are not a professional."

The host at this juncture was still not satisfied with the answers given and therefore asked the APC leader what went wrong with his relationship with the EC Chairperson.

Hassan Ayariga who was not prepared to give any further answer thanked the host and wished him well.