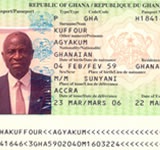 Fri, 9 Feb 2007 Source: Ghanaian Times
The Passport Office has now established a desk to verify birth certificates of all applicants before they are issued with passports.

The move is one of the measures by the office to ensure that Ghanaian passports are not issued to foreigners, Sylvester Parker-Allotey, acting Director of Passports has said.


He said the desk is being manned by personnel from the Births and Deaths registry and by that the tendency for non-citizens of the country to acquire a birth certificate through fraudulent means and use it to access Ghanaian passports has been minimized.


"We are also cross-checking on the witnesses and guarantors of passport applicants so that if we find out that they do not know the applicant, then we know its fake," he said.

He said when applications for passports suspected to be fake are intercepted by Ghana's consulates abroad, they are sent to the Document Fraud Office of the Police CID to investigate and prosecute the culprits.


For instance, he said last week alone, 22 such Ghanaian passports were intercepted in Italy and the bearers were arrested by the Italian authorities. Their particulars have been sent to the CID for prosecution.


Mr Parker Allotey appealed to the public to be vigilant and report to the police any non Ghanaian that they know or suspect to possess the country's passport since such persons are likely to indulge in criminal activities that would damage the country's image.

Source: Ghanaian Times