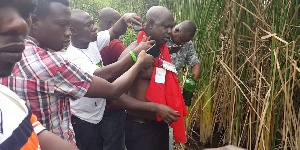 The chiefs and elders of Kasoa Ofaakor Traditional Area in the Awutu Senya East Municipality of the Central Region are demanding a barrel of local gin (Akpeteshie), a bottle of Schnapps, cash of GHC50,000 and other items to reverse a curse invoked on senior members of the party.
It will be recalled that some members of the ruling party in the Awutu Senya East invoked curses on the party's General Secretary, John Boadu and some executives for illegally removing their names on the list of delegates prior to the party 's polling station elections in February.

The NPP members slaughtered a white sheep to invoke the curse and later offered 10 eggs and four bottles of schnapps to the gods.

The party has since prevailed upon the disgruntled members to reverse the curse.

However, the chiefs and elders of the area say, in order to reverse the curse, some items are needed to pacify the gods.
The Twafohene, Nana Bediako, outlined items needed for the pacification.

According to him, the gods need the items by tomorrow (Saturday, April 7, 2018)

The items are listed below:

3 cows, 3 Sheep, 3 goats, 7 fowls, 7 crates of eggs, 7 kitchen knives, 1 box of schnapps, one barrel of Akpeteshie, a mat, 1 Bucket and cash of CHC50,000.00