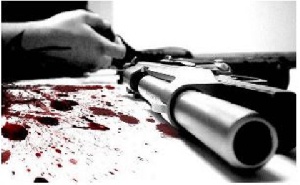 A police officer with the Central Police Station, Kumasi, has shot and killed himself.
Accra FM's Elisha Adarkwa, who visited the Tafo residence of the policeman, the scene of the suicide, said co-tenants were still in shock.

One resident said a gunshot was heard from the room of the deceased officer, Kofi Owusu, on Wednesday morning attracting neighbours to his room.

According to her, the police officer received a call in the early hours of today, immediately after which he asked his girlfriend to leave his flat lest he shot himself.
His girlfriend complied with his orders and moments after departing, a gunshot was heard from his room.

Terrified residents who rushed to his room found him slumped in his chair with a gunshot wound to his neck. An alarm was subsequently raised following which some young men arrived to convey the body of the cop to the mortuary.

It is still unclear what led to the suicide.