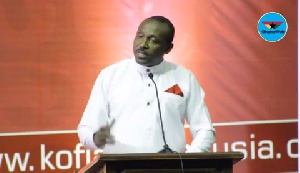 General Secretary for the ruling New Patriotic Party (NPP), John Boadu has disclosed that the date for their primaries remain unchanged.
According to him, they should disregard any information circulating that their primaries have been changed to a later date.

Speaking on Okay FM's 'Ade Akye Abia' programme, he explained that preparations are still underway for the primaries.

He reiterated that the date for the primaries is April 25th and all are expected to go on as planned.

"At the moment 110 has filed to contest in the Ashanti region with 5 going unopposed. A total of 57 women are also contesting in the primaries in all 275 constituencies in the country," he said.
He repeated that President Nana Addo Dankwah Akufo-Addo is running unopposed as no one filed to contest him.

On January 20, 2020, the New Patriotic Party opened nominations for interested and eligible party members to file nominations to contest in the upcoming primaries in constituencies with sitting NPP MPs.

The month-long process ended on February 20, 2020, with fourteen aspirants having gone through the nomination process, and filed to contest in three constituencies of the North-East Region, consisting of three women and eleven men.

The New Patriotic Party (NPP) will on April 25, 2020 hold primaries to elect its parliamentary candidates to represent the party in the 2020 general election.