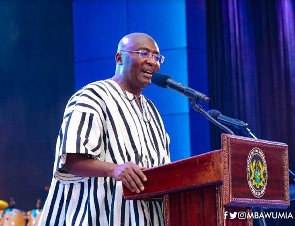 Alex Tetteh Djornobuah, the New Patriotic Party (NPP) MP for Sefwi Akontombra, says the declaration of support for Vice President Bawumia ahead of the party's presidential primaries is a result of his competence.
This is in line with claims that 102 NPP MPs in Parliament have said they will vote for Vice President Bawumia in the upcoming primaries.

On February 5, 2023, more than 600 New Patriotic Party (NPP) delegates from the Krachi East Constituency declared their unwavering support for Dr Mahamudu Bawumia in the presidential election.

The executives included Electoral Area Coordinators, Polling Station Executives, Constituency Executives, and the former Member of Parliament (MP), Mr. Michael Yaw Gyato.
Speaking on the declaration of support for Bawumia by some 102 MPs, Alex Tetteh Djornobuah, MP for Sefwi Akontombra, told the host of Atinka FM's AM Drive, Kaakyire Ofori Ayim, that it does not come as a surprise that support for Bawumia keeps trooping in.

He revealed that the 102 MPs' support for Bawumia is based on research.

"Most of us have come to the realization that the only person that can lead the NPP "break the eight" is the current Vice President, Dr. Bawumia. That is why most of us have declared our support for him. "You can also conduct your independent research among the MPs to ascertain the truth," the lawmaker told Kaakyire Ofori Ayim.