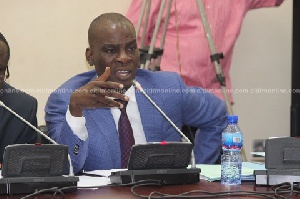 The Minority in Parliament has said the government must come clean on which state assets it intends selling off in its effort to raise GHS1.8billion through listing of those assets on the Ghana Stock Exchange (GSE).
At a press conference to present an alternative budget to that presented to parliament by Finance Minister Ken Ofori-Atta, the Minority said it fears the Akufo-Addo government, in keeping with the New Patriotic Party's "tradition" of selling off state assets "whenever they are cash-strapped," as they did to Ghana Telecom (now Vodafone) and Ghana Airport Company during the Kufuor administration, it was imperative for the government to let Ghanaians know which state assets are billed to be sold.

President Nana Akufo-Addo, in his maiden State of the Nation Address hinted at a possible listing of state power producer Volta River Authority (VRA) and state power transmitter Ghana Grid Company Limited (GRIDCo) on the GSE.

Also, when Finance Minister Ken Ofori-Atta read the first budget of the new government in parliament, he said the government intended "divesting" its "holdings in some SOEs with a view to ensuring efficiency" as part of capital market development initiatives.
"This will include the sale of government shares in some SOEs and companies via a listing on the Ghana Stock Exchange," Mr Ofori-Atta explained.

Addressing the media in Accra on Friday, 3 March, Minority Leader Haruna Iddrisu said: "In the interest of transparency and accountability, we demand that they [government] provide more information on which state assets they intend to sell in order to be able to raise the GHS1.8billion from the divestiture proceeds. We need to have an indication."

According to Mr Iddrisu, GRIDCo and VRA can only be divested a "dongomi" rate – pittance – since they have major liabilities on their balance sheets which essentially devalues their worth.