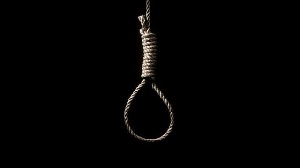 A clinical psychologist Dr. Samuel Atindanbila has called for the country's law on suicide to be reviewed to help reduce the menace of the sordid act.
According to him persons attempted taking their own lives or abet the commission of suicide need counseling to be reformed rather than being criminalized as per the Criminal Offences Act.

Section 57 of the Criminal Offences Act – 1960 (Act 29) provides that "(1) A person who abets the commission of a suicide commits a first degree felony whether or not the suicide is actually committed. (2) A person who attempts to commit suicide commits a misdemeanor."

However, in an exclusive interview with a1radioonline.com Dr. Atindanbila frowned against the law stating that every individual has a chemical in the brain known as dopamine hypothesis. And when this chemical which is in the brain is reduced to its low level the individual is under the impulse of the chemical and risk taking off their life or that of the other.

"So if somebody gets malaria or diarrhea and he has to go to court to explain why he had malaria well I don't know what is happening." he bemoaned.

The country for quite a while sparked off a surge of suicide cases involving university students while a junior high school student as young as 16 years taking committing suicide.

Among reasons for the commission of suicide, the world's 13th leading cause of death according to Dr. Atindanbila include poverty, relationship problems, joblessness, stress and anxiety.
Psychiatric disorder and deadly disease could lead an individual to commit or attempt committing suicide according to the clinical psychologist who is also a senior lecturer at the Department of Psychology of the University of Ghana, Legon.

Reiterating his point for the law criminalizing suicide to be reviewed Dr. Atindanbila stated that instead of punishing suicidal persons as per the law, government should come out with economic strategies that can improve the lives of many in the society.

"It might be due to extreme poverty and this person attempted suicide and he has survived and you are taking him to a court to pay money again. What led him [suicidal person] into that is because of poverty now you [the law] are asking him [suicidal person] to pay money for attempting to take away his life. I think the lawmakers of the country have to revisit this law."

Although persons died out of suicide is beyond the reach of the suicide law, in some communities in the country the body is not given a befitting burial to serve as punishment and determent to individuals contemplating of following suit.

Dr. Atindanbila has therefore called on the society to undergo stress management methods as well do away with the stigma against persons going through mental illness to reduce the threat.