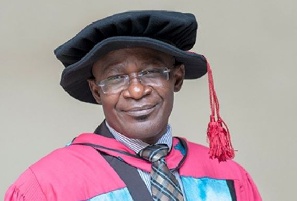 The Global Alumni Association of the Kwame Nkrumah University of Science and Technology (KNUST) has rejected government's decision to dissolve the Governing Council of the tertiary institution.
This follows government's dissolution of the Governing Council of KNUST and subsequent establishment of a seven-member Interim Council to look into the recent disturbances on campus, which resulted in the destruction of over 40 cars and 10 motorbikes.

Global President for the KNUST Alumni Association, Eunice Akosua Ofosua Amoako, said in a statement on Friday, 26 October 2018, that: "It is worthy to note however that, KNUST is governed by its Act & Statutes from which, sets of systems, structures, rules & regulation are derived and makes the dissolution of the Governing Council highly irregular".

This was in reaction to the announcement of the Interim Council, chaired by Nana Effah Apenteng, Paramount Chief of the Bompata Traditional Area.

The committee was formed after briefs and recommendations made by the Minister of Education, Dr. Matthew Opoku Prempeh, after he led a high-powered delegation, including the Minister of National Security, Albert Kan-Dapaah; and the Minister-Designate of Information, Kojo Oppong Nkrumah, to Kumasi.



However, the KNUST Alumni said it is their considered view that "the terms of reference assigned to the newly constituted seven-member Interim Council of KNUST could have been conveniently performed by the dissolved Governing Council".
"In support of the call of UTAG-KNUST branch, all likeminded individuals and groups, who cherish our current democratic dispensation and rule of law; we call on the Government of Ghana, to immediately restore the dissolved Governing Council of KNUST, which was hitherto, properly constituted in accordance with the Act & Statutes and to grant the Council the opportunity to activate the relevant provisions and mechanisms in the Act & Statutes to address the current impasse," the statement stressed.

"By this approach, the Global KNUST Alumni Association believes that, peace and tranquility will be quickly restored on campus," the release added.

Meanwhile, the Ghana Association of University Administrators (GAUA) and the University Teachers Association of Ghana (UTAG) in KNUST, have all declared an indefinite strike until government restores the dissolved Council.

The leadership of the two groups indicate that they do not recognise the newly-constituted Interim Council.