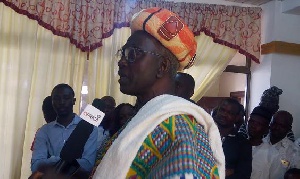 The Northern Regional representative of the Council of State, Professor Bog-Naa Yakubu Nantogmah has urged the government to only create dams in strategic locations in each of the three northern regions instead of creating one dam in each community as proposed.
In an exclusive interview with 3news.com, Prof. Yakubu Nantogmah although lauded the one village one dam policy of the NPP, he feared it may result in a waste of scare resources because some areas may not need these dams.

He noted that with the needed support, the Northern Region could be Ghana's North California which produces all the farm produce for America.

"A total of thirty strategically located dams in four years is what Ghanaians will need, and not dams scattered with no importance. If the government is able to locate areas where farmers have synergies and will make good use of the dams for their agricultural purposes then we can replicate what is happening in North California in Ghana".

Prof Yakubu Nantogmah has also called for subsidies for agricultural inputs, noting that "the big countries will not te ll you they subsidize but they do, you can't tell me someone rear fowls in another country but is able to export his produce at a far lower price than the Ghanaian farmer who produces local fowl right here in Ghana, do you know why? Someone has subsidized his inputs and that's why he's able to produce and sell at less cost".

Ahead of the 60th anniversary, the Council of State member has bemoaned the absence of economic independence.
"We attained independence yes but what independence? We still borrow and mind you, that doesn't suggest we shouldn't borrow, even the big countries borrow but they don't solely depend on that". Prof. Yakubu Nantogmah believes if followers are able to feed leaders with the real state on the ground, certain things could be avoided, hence no leader will be labelled as a "bad" leader.

"I don't think we have bad leaders, no, we have bad followers who refuse to tell their leaders what the real state of the country is. I don't think there's a leader who says I have come to punish my people but the followers paint, create pictures of the state without caring for its consequences".

The 74-year-old Chief of Bogu in the Savelugu traditional, who was 14 years during Ghana's independence still hold in high esteem the legacy of Ghana's first President Dr Kwame Nkrumah seeing him as the only leader who still remains "the show boy" of Africa.

Meanwhile, government has earmarked GHC94.5 million for the One-Village-One-Dam project.