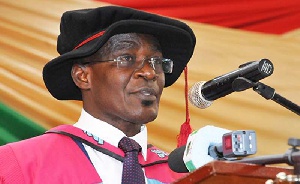 The Vice-Chancellor (VC) of the Kwame Nkrumah University of Science and Technology (KNUST), Professor Obiri Danso has impressed on the student community not to boycott lectures today as the lectures will proceed as scheduled.
In a communique forwarded to the students, the VC reminded the students that lectures are compulsory and it will be in their own best interest if they do attend.

The message reads "The attention of the VC has been drawn to a boycott of lectures by students on Monday 22nd Oct. 2018. You're reminded that attendance at lectures is compulsory and the decision to attend lectures or not remains an individual affair. Lecturers will be at lectures as usual and you are entreated to disregard any contrary information''.

The Student Executive Council of the University in joint forces with the School's Student Representative Council (SRC) Parliamentary Council and all student leaders have declared a boycott of lecture today [Monday October 22, 2018] to register their displeasure against the school's authorities in the light of recent events which has seen students being manhandled by the University's security personnel.

The signed communique which has been sighted by Mynewsgh.com captions 'ACTION NOW, ENOUGH IS ENOUGH' and explains that, tomorrow 22nd October 2018, the student body is boycotting all lectures on campus and are embarking on a demonstration as they have had enough of student brutalities.

Earlier, the SRC in a differently signed communique called for calm among the student body as they work to address the scores of brutalities suffered at the hands of the University's security.
They defined the actions of the University's security personnel as a gross deviation from their core mandate as they are to ensure the protection of properties and welfare of students.

They called on the student body to register their displeasure with them especially those that have lately suffered some of these despicable brutalities at the hands of the Securities as they seek to exhaust all available channels to make sure the culpable security personnel are brought to book.