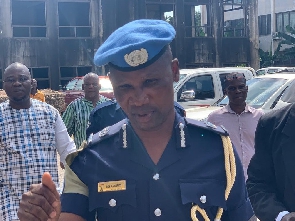 The Kaneshie District Court presided over by Magistrate Eleana Kakra Barnes Botwe has cautioned Assistant Commissioner of Police (ACP), Dr Benjamin Agordzo who is under investigation for an alleged plot not to grant interviews to the media.
The court on Friday expressed its displeasure over the senior police officer granting an interview to the media after his first appearance in court on Wednesday.

The outspoken senior police officer believes he is being victimised because of his love to publicly express his thoughts on national issues as a citizen.

ACP Dr Agordzo told the media that he has no hand in the said plot to destabilize the state.

"The charges are frivolous. I am as strong as anything. Nobody should bog me, I have not committed any crime. I have done nothing wrong. The President called upon us to be citizens so when I express my opinion on WhatsApp platforms unrelated to any alleged coup nobody should bog me down. I will stand for this till the end. You cannot break me down because I am strong for anything."

Meanwhile, the court has remanded him into police custody and will be kept at the Ministries Police Station.
Full access will be accorded him as a senior officer of the Ghana Police Service and his family members will at all times be made aware of his location.

ACP Agordo's charge of Abetment to Commit Crime, namely Treason Felony contrary to section 20(1) and 182 (b) of the Criminal and Other Offences Act 1960 (Act 29), were read to him in court.

The case has been adjourned to November 20, 2019.