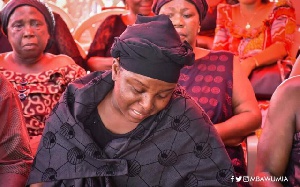 On the day of their first wedding anniversary, the late Kwadwo Asare Baffour Acheampong affectionately called KABA wrote an emotional letter to the wife Valentina Ofori- Afriyie, among other things requesting for more prayers for the family.
The letter which was contained in a tribute read on behalf of the widow of the late broadcaster also appreciated Valentiana for her numerous support a year after a beautiful marriage.

KABA passed away at the Korle Bu Teaching Hospital after a short sickness on Saturday 18th November.

Until his sudden death, he was the host of popular late afternoon political talk show, Eko Sii S3in on Asempa 94.7 FM.

Read the full letter below

Good morning MaryVal
Happy anniversary, wow, so soon it's been a year.

A year of God's love, favour, mercy and abundance of Grace.

Exactly a year today you formally agreed to be my wife and me your husband. I'm grateful I chose you and you chose me; you know why; because in the last one year I've had no reason to ask why I married and to you. As far as I'm concerned I made the right decision.

In the last one year God has also blessed this family with the miracle baby Nana Yaa. What eels can we ask for in marriage.

So as we mark this milestone, I want to say thank you for choosing me. But it hasn't all been a smooth sailing experience. We've had our own peculiar challenges and even through it all you stood by me. … sicknesses, financial, my family, my mum and most of all me.
I know you sometimes complain I don't listen to you or that when you speak I don't let you finish and I cut in, I know sometimes it's bothersome to you. I promise to make amends. Forgive me if I hurt you in anyway.

In the years ahead, I can only promise with God's help to be a better husband and a father in all spheres.

There is only one thing which lacks in our journey, getting closer to Christ. We must take steps to formalize our relationship with him again soon as we leave this place God willing to our house. There's only one thing I ask of you; don't give up on me

Don't give up on us

Never stop praying for us -Myself and, Yourself and Nana Yaa
When I go wrong correct me

Have never stopped loving you

Ours was not a mistake it's the envy of all

Let's guard it jealousy

If I were to be asked again the same question
KABA do you take Valentina Ofori- Afriyie as your wedded wife?

I'll answer that a thousand times, Yes!!!

Happy anniversary MaryVal