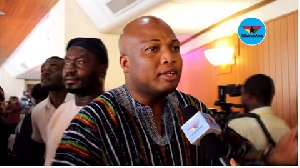 Former Deputy Education Minister-in-charge of Tertiary, Samuel Okudzeto Ablakwa, has debunked the assertion made by Vice President Dr. Mahamudu Bawumia that without the temporary hold-up double-track system in place the Free Senior High Policy will not have been successful.
The Vice President shed more light on the Akufo-Addo administration's philosophy on education when he addressed participants at the two-day Government Townhall and Results Fair taking place at the Great Hall of the University of Science and Technology, Kumasi, on Tuesday 11th February 2020.

"We had a big challenge, however. We did not have sufficient infrastructure in most schools to accommodate the increased numbers (The free SHS has resulted in a 69% increase in enrollment). Today, 1.2 million children are benefiting from free SHS. The question we faced was 'Whose Child Should be left at home?'" he rhetorically asked.

Commenting on Okay FM's Ade Akye Abia Morning Show, Okudzeto Ablakwa, who is also the NDC MP for North Tongu, indicted the NPP government for not thinking through the Free Senior High Policy before rolling it out.

To him, the double-track system is an after-thought because the people at the helm of affairs hit a dead end.
"Why didn't they tell Ghanaians that the free SHS they were coming to implement, they will use the double-track system to do it? So, the double track is after-thought, an ad-hoc measure based on the fact that they were not prepared for the free SHS."

"If you don't formulate your policy well if you don't think through and you are not rigorous with your analysis, you have a faulty landing, then you have no choice but to be scrambling around and that is why they introduced double track…they knew that free SHS is possible without double track and that is why double-track didn't feature in their manifestos," he reiterated.

The North Tongu lawmaker said that the NDC has no plan to displace any student when they come to power as the ruling NPP is speculating based on the fact that the Mahama government will abolish the double-track system.

"We are talking about an emergency infrastructure expansion. If you look at our track record in 2010/2011 academic year, we could have said that President Kuffour didn't put measures in place to cater for the 4-year term and also say that we didn't extend it from 3 years to 4 years and so we should do double track where some students will be asked to stay home or even ask them to wait for the next academic year when we return to 3-year system. Those were all policy options available but they were the lazy man's options and so we didn't adopt any of the lazy man's options. We chose the hard-working, visionary man's option and that visionary man option was to embark on an emergency infrastructure expansion. When there is a will, there is always a way," he pontificated.