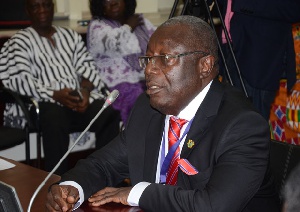 Dr Kwaku Afriyie, the Western Regional Minister has said the free education policy by the NPP government is the best equalizer in dealing with poverty among rural folks, improving livelihood and the general economic growth of the country.
He pointed out that every new intervention, project and programmes came with associated risks and difficulties which when properly handled enabled the best to be seen and therefore called on all stakeholders, Parents, teachers and the children involved to exercise the greatest level of decorum in order to get the best out of the free senior high system and the introduction of the double track system.

"I get worried when people pick on the small elements and create confusion in the minds of the generality of the people…what we have to do is to see the tremendous lives that these programmes are changing and affecting for the overall development of the human capacity of the country and economic and social well-being of the people.

The Minister in the Company of the Western Regional Director of Education, Mr Akuffo-Addo, the Metro Director of Education, Mrs Elizabeth Akouko, the Coordinating Director, Mr John Owu and other GES staff toured some of the second cycle institutions within the Metropolis to assess the intake situation on the first day of re-opening of schools.

Dr Afriyie said, "Man is a problem solving animal and this is another opportunity to streamline all the rough edges and make the system better for the future of the Ghanaian child".

He said education remained the best legacy and "President Nana Akufo-Addo has demonstrated beyond doubt that he wants a brighter future for nation Ghana."

At the Ahantaman Girls School, Mrs Mercy Ocloo said preparation was on course to absorb all the 1, 247 students posted to the school, and however stressed the need for more teachers to help in the success delivery of the programme.
All students in the Green would commence studies this September through to the end of October to pave way for the Gold students to commence academic work on November 8, 2018.

Meanwhile, head teachers have the laxity to restructure programmes and its tutelage to avoid any hiccups as a result of the double track.

The situation was calm and prevailing at the Archbishop Girls' School when the team visited, where a total of 1, 095 would be sorted out to begin both tracks on the education ladder.

Meanwhile, agitations were soaring at the Kwansaworondo Methoidist Senior High and Bompeh Senior high where parents did not understand why their wards selected for a particular track were being regrouped by teachers.

But Mrs Elizabeth Akouko, the Metropolitan Director of Education said head teachers were allowed to use their discretion to restructure the internal delivery mechanism to ensure that no student was left out of the process.

Ten senior high schools in the Metropolitan assembly are implementing the double track system of intake.