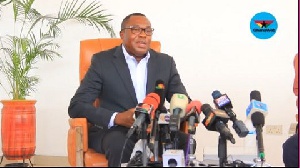 Lawyers for the National Chairman of the National Democratic Congress, Samuel Ofosu Ampofo, have filed an application asking the court to drop the assault charge against him.
In court on Monday, May 27, Lawyer Tony Lithur informed the court that they have filed an application for the court to strike out the second and third charges which relate to assault.

He said the application was filed on Friday, May 24.

Also, Lawyer for Anthony Kweku Boahen, also told the court that they have filed an application for additional documents from the Attorney General.

According to him, they are requesting for an extract of diary of action which was yet to be given to them by the Attorney General.

But, prosecution represented by the Director of Public Prosecution told the court that, they are yet to be served with Mr Ofosu Ampofo's application to strike out the two counts of assault.

She said she will need time to consider it when served on them.
On counsel for Kweku Boahen's request for extract of diary of action, she said prosecution has filed its statement in opposition to that request.



Charges

While both of them have been charged of conspiracy to commit harm, Samuel Ofosu Ampofo also faced two separate charges of assault of public officers to wit inciting party supporters and party Communicators to attack EC boss and chairman of the Peace Council.

The Commercial Court presided over by Justice Samuel Asiedu adjourned the case to June 7 for the applications to be considered as well as Case Management Conference.