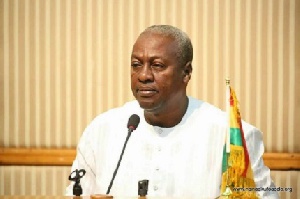 Former President John Dramani Mahama has prayed for Allah's blessings for all Muslims and the country as Muslims mark Eid al-Adha celebrations today, Friday, 1st September 2017.
"On the holy occasion of Eid al-Adha, may the blessings of Allah continue to light our ways. May he accept our sacrifices and prayers, keep us united and grant our dear nation peace, happiness, success and prosperity," Mr Mahama said in a tweet.

Eid al-Adha, which means "Feast of the Sacrifice", is the second of two Muslim holidays celebrated worldwide each year, and considered the holier of the two.

It honours the willingness of Ibrahim (Abraham) to sacrifice his son, Ismaeel (Ismael), as an act of obedience to God's command. Before he could sacrificed his son, God intervened by sending his angel Jibra'il (Gabriel), who then put a ram in his son's place.
In commemoration of this, an animal is sacrificed and divided into three parts: one third of the share is given to the poor and needy; another third is given to relatives, friends and neighbours; and the remaining third is retained by the family.


#Barka da Sallah, my Muslim brothers and sisters. pic.twitter.com/SRS6ZQYwh1

— John Dramani Mahama (@JDMahama) September 1, 2017