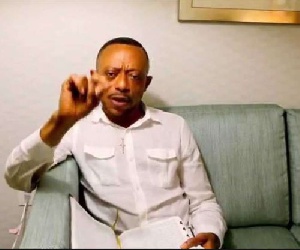 Founder and Leader of Glorious Word Ministry, Rev. Isaac Owusu Bempah has said evil spirits may be behind the recent cases of suicide missions in the country.
According to him, it would be wrong for people to blame harsh economic conditition and purported human sacrifices by politicians ahead of the 7th December 2016 general election as the cause of the many deaths.

Eight persons have committed suicide in two weeks, a development which has come as a great concern to many people in the country.

Last week, two young ladies took their lives in the Eastern and Greater Accra regions. A man, also in his 30s, committed suicide at Achimota in Accra.

A man in his 30s, was found hanging on a tree near the MTN park at Ashaiman Jericho in Accra on Monday, while another lady living around the Ekye Presbyterian Health Center at Affram Plains in the Eastern region Liticia Amartey, was seen hanging on a reservoir near the hospital Monday morning.

A 16-year-old Junior High School Student of Child of Hope Preparatory School at Akyem Osiem – Barbara Asante – was found hanging in the kitchen of her parents' house at Akyem Tafo last Tuesday.
Last Wednesday, a level 400 student of the University of Ghana jumped to her death.

She reportedly jumped from the balcony of the Akuafo Hall annex A room 407 after staying away from lectures several days.

But speaking to Abusua FM, one of EIB's establishments in Kumasi, Rev Owusu Bempah said it is important that the spiritual angle is also looked at, in finding the cause of the suicide mission.

"Most of the time many forget that there could be spiritual causes to people committing suicide, we forget that the Bible records an instance where a man brought his son to Jesus to heal. The boy when he was under spiritual attack threw himself into fire and sometimes water wanting to kill himself. Suicide is caused by a spirit, when one is posessed to commit suicide the person is unable to control him or herslf, and that is what happened to Judas when he betrayed Jesus. He ended up committing suicide, let us also look at the spiritual angle to this problem of needless deaths so we pray fervently to end it."