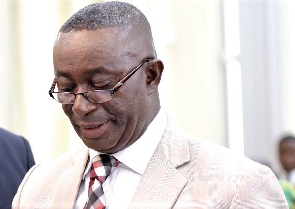 The Communication Directorate of the former New Patriotic Party MP for Asante Akyem North has denied an allegation that Mr Kwadwo Baah Agyemang incited the Agogo Zongo community in the area to reject some gifts donated to them by his successor Andy Appiah Kubi.
On Saturday, 1 June 2019, the residents rejected some Ramadan gifts donated to them by Mr Appiah Kubi over his failed promises.

The MP had a pickup-load of items carted to the Muslims in the area but the disgruntled youth rejected the gifts with the explanation that he had reneged on his promises to them.

According to them, Mr Appiah Kubi promised to fix their roads and schools but has failed to deliver them, thus, their anger.

"The MP promised to tar own main road within six months when voted into power but it's been two years now; we've not seen anything from him. He also promised to give us 100 bags of cement, two trips of sand and GHS10,000 to help us rebuild the only community school here in Zongo, Mariam Bintu School, which even forced us to pull the old structure down since it was dilapidated, with the hope that the MP will honour his promise. Two years on, we haven't heard anything from him in that regard, hence, we have decided not to take any rice from him, since we are not chickens and he has taken us for granted for long…", a community member, Malik said.

He further stated that: "The worst of it is that the MP and DCE promised to hire two Arabic teachers in addition to the only Arabic teacher in the school so that they pay them monthly but for more than two years now, we've not heard from them and all means to reach them have proved futile. In this regard, we've decided not to take any rice from him since we are not chickens and he has taken us for granted for far too long."

Later on, there were allegations made by the NPP Constituency Secretary and Youth Organiser of the Asante Akyem North Constituency, Mr William Aboagye and Derrick Amoah, respectively, that the former MP, Mr Baah Agyemang, was the one who orchestrated the rejection of the gifts.
Reacting to the claim in a statement, the Communication Director of Mr Baah Agyemang, Mr Godwin Kwao, said: "We wish to state for the records that the claim by the above-mentioned personalities is a contrived mendacity calculatedly designed to smear the political reputation of Hon. Kwadwo Baah Agyemang and should, therefore, be treated with the contempt that it deserves.

"The point must be made that Hon. Kwadwo Baah Agyemang, who is a government official, is a law-abiding member of the great NPP and will, at all times, uphold the core values of the party.

"As a former Member of Parliament for the Asante Akyem North Constituency, who still has a burning desire to serve his constituents and would, therefore, pick nomination forms to contest in the impending NPP parliamentary primaries for election 2020, would be the least to engage in any activity that would be inimical to the fortunes of the party.

"He is also not oblivious of the invaluable contributions from the Zongo communities, which culminated in the party's overwhelming victory in the 2016 general elections. He will, therefore, under no circumstance contemplate the thought of engineering a situation that would create dissatisfaction for the party within the Zongo enclave.

"Furthermore, the Zongo community is made up of respectable and mature people. It's, therefore, unfortunate for anybody to suggest that they can be influenced to take a particular action."