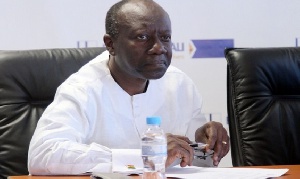 Unhappy with the tight fiscal space government is confronted with, economic Policy Think-Tank, the Institute for Fiscal Studies (IFS) is advising caution in expenditure to forestall escalation of the fiscal deficit.
Even though government has managed to create some space through its review of earmarked funds, the Institute is worried the space created is no match for the expected expenditure from the execution of government's programmes contained in the budget.

Parliament last Friday passed the Appropriation Bill for the 2017 budget, including the landmark re-alignment of statutory funds which is set to free up about GH¢4.5 billion in fiscal space for the year.

But Economist and Senior Research Fellow at IFS, Dr Saeed Boakye cautioned that there were numerous campaign promises that government had to execute.

According to him, government had to exercise restraint in executing all the promises otherwise it would have the tendency of putting the same stress on the budget that was previously caused by the old revenue earmarking process.

But the IFS maintains that Ghana's recent bond issuance which raked in $2.3billion at 19.7 per cent is indicative of the difficult times Ghana has found itself in.

Dr Saeed pointed out that although the provision of free Senior High School education was a laudable one, the Institute would have wished that the policy was deferred to a later year due to the amount of fiscal space that policy alone would consume.
The IFS in February expressed worry over the state of the economy on the back of which the 2017 budget had set ambitious targets.

The Think Tank had earlier expressed concern over what it termed the derailment of the fiscal consolidation process, pointing out that the macroeconomic environment that showed signs of improvement last year following 3 years of high instability, had begun to deteriorate again.

Executive Director of the Institute, Prof Newman Kwadwo Kusi described as high the rate at which Ghana earned the $2.3billion. According to him, government had to be wary of the interest costs of the loans it was taking.

"If you are borrowing to retire your debt it means the size of the debt remains the same; then you top it up by 2.3 billion at 19. 7 per cent aside the interest costs; this shows that the government has no room to maneuver" Prof Kusi lamented.

This is in spite of government's insistence that the results of the bond issuance was indicative of the renewed confidence investors had in its ability to build an effective public financial management system, improve the country's debt sustainability outlook and mitigate the crowding out of the private sector.