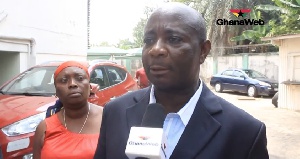 Even before the 2016 budget is read on Thursday, Founder and leader of the United Peoples Party (UPP), Akwasi Addai otherwise known as Odike is appealing for the immediate suspension of the planned implementation of the Free Senior High School (SHS) education policy.
He believes the country lacks the resources to implement the policy hence the need for its suspension.

President Nana Akufo Addo in his first State of the Nation Address (SONA) announced that his government will from September this year roll out the free education programme.

But speaking to Ultimate News' Isaac Justice Badiako, Odike indicated that he would that the president focuses on fixing the economy and creating jobs than encumber the country's finances with the huge sums needed to roll out the programme.
He emphasized, "The free SHS is a very good policy but I will like the government to suspend its implementation and fix the economy first. We expect the government to spearhead private sector development,"

He argued that economically empowered parents will be able to afford to pay the school fees of their wards if the president took his advice.