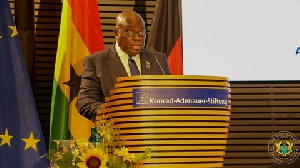 President Nana Addo Dankwa Akufo-Addo has said government is committed to ensure that fair opportunities are made available for all and called on the public to join hands in this effort.
He said whiles government is committed to achieving the set target, it was also important to free ourselves from dependence on foreign aid, charity and grants.

President Akufo-Addo, who was addressing the opening of the 17th General Assembly of the Presbyterian Church of Ghana (PCG) held at Abetifi, said it is clear that the New Patriotic Party won the election because Ghanaians were dissatisfied with the state of affairs adding that "I believe passionately in our capacity to build a prosperous nation".

The theme for this year's General Assembly is: "Let the earth hear" and the event is scheduled to end on Thursday.

President Akufo-Addo commended the PCG for its numerous contributions in the areas of health, education and agriculture adding that government would continue to work with the church to deliver on its mandate.

In a speech read on his behalf Reverend Professor Cephas Omenyo, the Moderator of the General Assembly, said the church was not happy with the squabbles at the Electoral Commission, the high unemployment rate and the incidence of violence in some communities.
He said the church would not relent on its effort to partner with government in all spheres and called on government to take a critical look at the mandatory toll levy policy to ensure that all stakeholders were satisfied with the policy.

The Moderator also made a special appeal to government to lift the embargo on teacher transfers to enable Reverend Ministers of the church whose spouses were teachers and had been transferred joined them at their current stations.

He said the church normally transfers all its ministers periodically but because of the embargo on teacher transfers, it is becoming a challenge since many of the ministers themselves and their spouses are teachers.

The President donated a sum of GH¢10,000 in support of the general assembly.

Present at the function were Mr Dan Kwaku Botwe, Minister for National Re-organization and Development and also Member of Parliament for Okere; Mr Kwakye Darfuor, Eastern Regional Minister; Mr Akwasi Amoako-Atta, and Minister for Roads and Highways; and Mr Brian Acheampong MP for Abetifi.