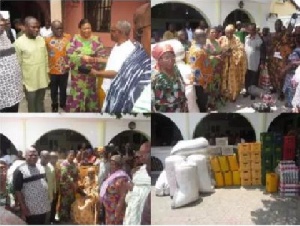 Mrs Rebecca Akufo-Addo, the First Lady, has made donations of food items to three paramount stools in Accra towards their Homowo Festival on Saturday, August 12.
The stools are Ngleshie Alata, Akumadjen and Otublohum.

The items were gallons of cooking oil, bags of maize, cartons of drinks and a total cash of GH¢10,000.00.

The First Lady was accompanied at the presentation by Mr Adjiri Blankson, a member of the Council of State, Mr Mohammed Adjei Sowah, Accra Metropolitan Chief Executive, Mr Ishmael Ashietey, Greater Accra Regional Minister and some staff of the Accra Metropolitan Assembly (AMA) and the Regional Co-ordinating Council.

Mrs Akufo-Addo asked the chiefs and people of Ga Mashie to celebrate the Homowo in peace to demonstrate to the Government their readiness to support in the development of the area.

Nii Kojo Ababio V, the Paramount Chief of Ngleshie Alata expressed gratitude to the Government for the donation and commended it for its commitment of ensuring peace in Accra.

He took the opportunity to extend an invitation to President Nana Addo Dankwa Akufo-Addo to grace the festival with the people of James Town.
He appealed to the AMA to wage vigorous fight against insanitary challenges in the city, especially along the beaches of Accra.

Nii Kojo Ababio urged the citizens to remain united and help champion the development plans of their communities.

Nii Ayikai III, Paramount Chief of Akumadjen thanked the Government for the kind gesture and encouraged the President to continue with his good works of making Accra peaceful.

Nii Dodoo Nsaki III, the Paramount Chief of Otublohum and the Acting President of the Ga Traditional Council, also expressed gratitude to the Government for the donation and called on the people to come together to develop Accra.

Mr Blankson told the chiefs and people of Accra that it had been a great concern for the Government to ensure peace in this year's Homowo festival and expressed worry over the chieftaincy disputes which had setback the development of Accra.

He said the Regional Security Council had directed that all chiefs and the youth should restrict the sprinkling of the "Kpokpoi", the traditional food within their jurisdictions for peace to prevail.