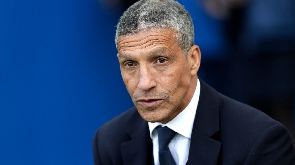 Former Tottenham Hotspurs, Chris Hughton is fierce favourite to become the next Black Stars coach.
The Black Stars coaching role has been vacant since Otto Addo and his technical team stepped down in December 2022 after the World Cup.

Hughton who was a technical advisor for Otto Addo has reportedly applied for the job and could land the role after he was reportedly overlooked for the job in February 2022.

Among the reported over 1,000 applicants for the Black Stars job, Hughton is reportedly leading the race.

Here are the reasons he deserves the job

Familiarity with the squad
Hughton has served as Black Stars' technical advisor for eight months. He has been a big part of the rebuilding process. He worked with the immediate past technical team that qualified Ghana for the World Cup and during the World Cup.

He is not new to the players, hence, players would adapt to him with ease and bond with him quickly.

Experienced

Hughton is an Irish-born coach who has lived a chunk of his years in England. He played for West Ham United, Tottenham, and a few others.

Since he became a coach, he has managed Tottenham Hotspurs, Newcastle, Brighton and Hove Albion, Nottingham Forest, and many others.
The 64-year-old has 25 years of experience, making his coaching debut in 1997.

Cannot be easily manipulated

Ghana Football Association spokesperson, Henry Asante Twum, has said the GFA would only consider a firm and bold manager for the vacant role.

"We need a coach who is firm and can take bold decisions at this point in time. We also need a coach who has respect for the dressing room. It's not any other coach who does not have the respect of the dressing room, and when he takes a decision or gives orders players snub him. That is not what we need. So if you are bringing a coach, you need to be guided; he has control, he has authority, he is firm, he is bold, and also has the respect of the dressing room. That is the kind of coach we need at this moment."

There is the narrative that the GFA manipulates managers and forces them to make decisions against their will, in terms of call-ups and lineups.
Regarding Hughton's profile and his pedigree in coaching, there is the belief that he has the integrity not to fall, victim.

English Contingent

Black Stars have an increasing list of English contingents and Chris Hughton could help integrate them into the squad and get the best out of them.

There are also other English players of Ghanaian descent who the FA would want to convince and Hughton could play a key role involving these players.

Readiness to work within government's budget
According to renowned sports journalist, Saddick Adams, the erstwhile Brighton and Hove Albion gaffer is willing to accept a salary between $50,000 to $70,000 as compared to other managers who are demanding over $100,000.

His willingness to work with the government's low budget means he is not in for the money but the willingness to improve the Black Stars.