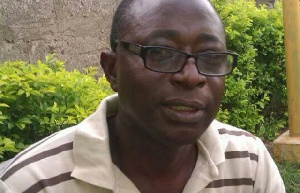 Angry residents of Kumasi, the capital of the Ashanti Region, have hurled insults at the former Ashanti Regional Minister, Peter Anarfi-Mensah, describing him as 'unwise and uncouth.'
The incessant verbal attacks on the 'darling' boy of ex-President John Dramani Mahama started after Mr Anarfi-Mensah described President Akufo-Addo as a bastard without provocation.

The Kumasi residents have given Anarfi-Mensah an ultimatum to retract his disparaging statement and apologize to the people of the Ashanti region and Ghana at large or incur their wrath.

They used unprintable words to describe Mr Anarfi-Mensah and his descendants, warning that they would make sure that he would not enjoy his stay in the region henceforth.

Mr Anarfi-Mensah, a former headmaster of Tepa Senior High School (SHS), threw decency to the dogs by calling President Nana Akufo-Addo names on social media network, Facebook.

The beleaguered former minister, who served under the previous Mahama administration, referred to President Akufo-Addo as a "bastard" in a facebook post which has since gone viral on social media.
His derogatory statement came after Appiah Stadium, a known supporter of ex-President Mahama in Kumasi, had been arrested by the police for insulting the Ghanaian leader without justification.

Kumasi insults Anarfi

Residents of Kumasi from various social classes descended heavily on Mr Anarfi-Mensah for raining insults on President Akufo-Addo.

Clearly the comments angered the residents, both old and young who took to several social media platforms to abuse the ex-Minister. Others also insulted him on radio.

One of the people, who took Anarfi-Mensah to the cleaners on Ashh FM, a Kumasi-based radio station was Raphael Sarfo Patrick, who is aspiring to be the Ashanti Regional Youth Organizer of the New Patriotic Party (NPP).
Raphael described Anarfi-Mensah as incompetent person, whose tenure as headmaster of Tepa SHS was characterized by leakage of examination papers.

The aspirant added that Anarfi-Mensah also engaged in illegal mining, popularly called 'galamsey' during his tenure as the Ashanti Regional Minister.

"No wonder he was sacked from office after about just six months. Anarfi-Mensah should not extend his uncivilized behaviour which resulted in his dismissal as Ashanti Regional Minister to President Akufo-Addo, who is an accomplished lawyer, or else I would hit back at him."