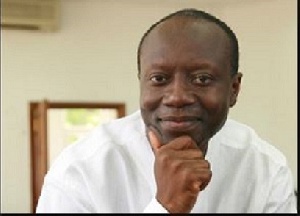 Tue, 1 Aug 2017 Source: GNA
The Government is to provide four core textbooks for all first-year students when the Free Senior High School (SHS) takes off next September, Mr. Ken Ofori-Atta, the Finance Minister, announced on Monday.
Additionally, there will also be "one hot meal a day for day students."

In a Mid-Year Review of the 2017 Budget, presented to the House, Mr. Ofori-Atta said in the order that quality was not compromised, there would be a rationalization of teacher deployment and training at the SHS level and instruction time would be optimized by extending the school day as well as the number of instructional days.

School inspection and accountability systems will also be very robust.

The Free SHS is one of the flagship programmes of the Government, with another being the "One District One Factory" programme, and the establishment of 55 factories by the end of 2017.

Mr Ofori-Atta said following the commencement of the programme implementation framework of which certain modalities have been prepared there would be over 50 factories which would bring about 80,000 direct and indirect jobs.
He said to date, the technical support group for the programme had already reviewed 234 businesses for the initiative and work was on going to bring all of them to fruition.

The One District One Factory programme of the Akufo-Addo led- Government is designed to establish at least one viable factory in all 216 districts in Ghana, as part of an industrialization drive to provide jobs and transform Ghana's economic fortunes.

Mr. Ofori-Atta said the Government was also on course to complete the National Digital Property Addressing System, for which issuance of National Identity Cards would commence next October.

Other programmes expected to commence before the end of the year are the "One Village One Dam, Small Businesses Development, Agricultural Infrastructure, Water for All and Sanitation projects.


Source: GNA