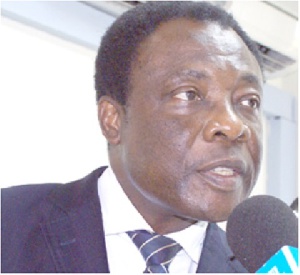 Former National Security Adviser in the Kufuor administration Mr Francis Poku has denied ever saying it is too risky for Ghanaians to re-elect the biggest opposition party into office in next year's November elections.
Mr Poku issued the disclaimer on Joy FM's news analysis programme Newsfile on Saturday, November 28, 2015 through Editor-in-Chief of the New Crusading Guide, Kweku Baako Jr.

According to the report which enjoyed wide circulation on social media, Mr Poku had told Deutsche Welle Radio that voting for the New Patriotic Party's flagbearer Nana Akufo-Addo in 2016 will be dangerous.

The report is published below unedited:

Former President Kufuor's mistrust for his own party's current flagbearer, Nana Addo Dankwa Akufo-Addo does rub on all members of the Kufuor faction, no matter how well most anti-Akufo-Addo members of the NPP hide their true feelings."

Francis Poku, the redoubtable former national security coordinator, who had been the capo during the Kufour regime, is unlike the majority of anti-Akufo Addo members of the elephant family, refusing to keep his thoughts to his bosom.
Wearing his feelings plainly on his sleeve, Mr. Francis Poku recently told Deutsche Welle Radio that he does not think it would be wise, from the security point of view, for Ghanaians to vote for Akufo-Addo as president in the 2016 elections.

According to him, Akufo-Addo's use of intimidation and brutish force to cow people into submission is dangerous.

"The economy is facing serious challenges, we lifted the economy to an appreciable level but unfortunately we are witnessing stagnation. This notwithstanding, I don't think change of regime is the ideal situation, looking at happenings in the NPP. The security of the country will come under serious threat if power is handed to the current NPP setup.

"Relations among members in a party would rest on their divergent consciences and on whatever power each group might muster to make its conscience prevail. Intimidation and use of brutish force to cow people into submission is dangerous. I am an expert on security matters and my days as National Security Coordinator gave me vast knowledge about security dynamics in the country.

"Based on experience acquired, my sincerest advice is that it would be unwise handing over power to the NPP at this time of our transition, Ghana is still seen as the torch bearer on the continent and many countries look up to the political evolution in the country; it will therefore be dangerous for the region if democracy in Ghana is allowed to crumble.
Currently in the NPP, there is raging confusion, following the ousting of the party's chairman through a palace coup organized by pro-Akufo-Addo fanatics.

However, Mr Baako said: "I've been asked by Mr Francis Poku, former National Security Minister to put on record that he has not granted any interview to any radio station on earth including the German Deutsche Welle."

"You know there is, in circulation, a report that he has suggested that it will be unwise for Ghanaians to hand power to the NPP.

"Mr Poku wants to put it on public record that he denies that. He has not granted any such interview and indeed yesterday he made contacts with the radio station challenging them to put out any audio evidence of his voice and the so-called interview."