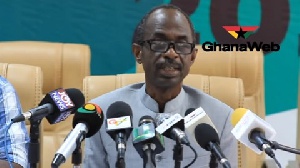 Chief Scribe of the National Democratic Congress (NDC) Mr Johnson Asiedu Nketia has called for the prosecution of anyone found to have played a key role in the Ghana Education Trust Fund (GETfund) scholarship scandal.
He observes that officials including board members either past or present, were appointed to help manage the state institution and not to satisfy members of their respective political parties, reiterating that the law must take its course.

Speaking on a local station in Accra monitored by MyNewsGh.com, he stated that the prosecution of persons found to have misconducted themselves would serve as a deterrent to others who think when appointed into government institutions can just engage in acts that satisfy them.
"There were people who were Board Members at that time under NDC and NPP. They say it happened from 2011 to 2018 but I am not interested whether they were NPP or NDC. If you are board member there are laws governing what you do, the laws must apply. You were not appointed to the front for NPP or NDC…it is a state institution you were appointed to help manage but if you violate the laws you must be dealt with accordingly irrespective of the party you belong", he said.

The Auditor-General in a performance audit report on the administration of GETFund Scholarships lists persons it considers undeserving of the Scholarships to have been beneficiaries of the Scholarships, including top ranking politicians, Ministers and university lecturers.