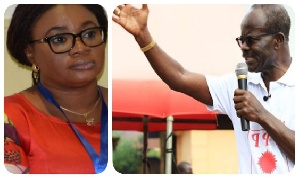 The Progressive People's Party has initiated legal processes at the Accra High Court to restrain Ghana's Electoral Commission from going ahead to receive nomination fees from aspirants seeking to contest this year's general elections.
The Commission is set to receive from each of the prospective presidential and parliamentary candidates, nomination forms with an amount of GHC50,000 and GHC10,00 respectively on Thursday and Friday.

But the Progressive People's Party which has sued the Commission over the fees, filed an interlocutory injunction application Wednesday afternoon to stop the EC from going ahead to receive the said fees together with the nomination forms from Thursday.

Per a Supreme Court decision, an application for interlocutory injunction technically applies as an injunction, hence the EC cannot go ahead to collect the filing fees from tomorrow The amount, which was announced by the EC on September 8 at an Inter Party Advisory Committee, has been described by many political parties as outrageous and illegal, triggering the lawsuit by the PPP a week ago.

Chairman of the PPP, Nii Allotey Brew Hammond who confirmed the filing of the injunction application to 3News said "the court bailiffs are in the process of serving the EC" to tie their hands in receiving the fees when the nomination forms are submitted from tomorrow.

He said the Independent People's Party communicated its intention to join the injunction application but as at the time of filing, they had not come forward.
Substantive suit

In the substantive suit which is yet to be heard by the court, the PPP is claiming "the filing fees is arbitrary, capricious and unreasonable," arguing Regulation 45 of C.I. 94 which gives the EC the power to charge the fees is discriminatory, arbitrary, capricious and unreasonable.

"That the entire C.I. 94 does not contain the appropriate relevant provisions that meet the intendment of Article 296 of the 1992 Constitution."

"A declaration that the proper instrument within the meaning of the relevant laws of the Republic of Ghana, in charging a deposit or fees for conducting a presidential or parliamentary election, by the Electoral Commission, is a statutory instrument and not constitutional instrument."

"An order directed at the defendants to desist from collecting and or receiving the said deposit or fees for the conduct of the 2016 presidential and parliamentary elections until the appropriate statutory instruments have been passed in accordance with appropriate legal rights."