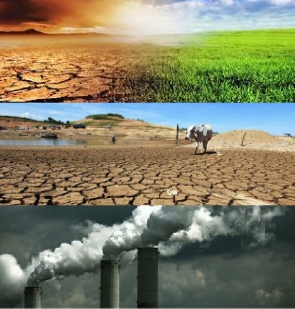 Like any other country in the world, Ghana is suffering from the effects of climate change caused by the increasing temperature of the world due to carbon emissions.
There are reports of communities along the country's coast being washed away and arable lands used to cultivate Ghana's major export commodity, Cocoa, and other food crops becoming unfertile.

Like many African countries, Ghana is a small carbon emitter compared to countries like China, the United States of America, India and Russia, which contribute nearly 75 per cent of global emissions of greenhouse gases. But the country has, at least, for the past decade, invested heavily to combat the effects of climate change and, more importantly, reduce the country's contribution to global emissions.

Ghana's fight against climate change has seen the country, through successive governments, enact several policies and laws, including the National Climate Policy, 2013; the National Energy Policy; National Environmental Policy; Forest and Wildlife Policy (2012); Ghana REDD+ Strategy; Ghana National Low Carbon Development (GNLCD) Strategy; Renewable Energy Act, 2011 (Act 832) and the Renewable Energy Master Plan, (2019).

In spite of all the investments, policies and laws made to fight climate change, data available suggest that the country is not making any significant strides in the fight against climate change. This article explores all the investments that have been made in the fight against climate change and the impact these investments are making.

Climate change investment for the past decade:

Over the past ten years, the Government of Ghana has spent over $9 billion on the county's climate change efforts, both from government funding and external sources.

External funding for climate, which is mostly in the form of grants (42 per cent) and loans (42 per cent), has seen some increase over the decade, and it amounts to over $2.4 billion of the $9.3 billion used in the climate change fight.




Source: OECD DAC External Development Finance Statistics, Authors Analysis

Climate change funding by the government has also increased considerably over the years, with nearly 4 per cent of the total Government of Ghana budget allocated to climate change mitigation efforts. The expenditure of the government on climate change issues increased from GH¢41,222 million to GH¢85,952 between 2015 to 2020.

According to a climate public expenditure review by Prof Lord Mensah, an academic at the University of Ghana, GH¢14.5 billion of the government's total budgeted expenditure of GH¢369 billion between 2015 and 2020 was used for climate change relevance actions.

The expenditures, which were incurred through the implementation of climate change-related policies by various Ministries, Departments and Agencies National Climate Change Policy (NCCP), focused on ten key areas.

Below are the expenditure incurred in the 100 policy areas:


As can be gleaned from the table above, a chunk of climate change-related expenditure has gone into agriculture and food security (nearly 28 per cent) as well as water and sanitation (over 25 per cent).

Investment into the climate change and gender focus area and effects of climate change on the ecosystem receive the least amount of investment.




Also, central government expenditure on climate change accounted for over 95 per cent (more than $5 billion) of the climate change expenditure between 2015 and 2020, while local government administration accounted for $234 million.



Source: 2021 Climate Public Expenditure and Institutional Review data, Authors Analysis

Threats of climate change:

Despite all the investments the government has made in climate change, Ghana seems to be lacking in all the climate change indicators.

According to the World Bank Group Country Climate and Development Report on Ghana, the country lost nearly 16 per cent of its forest between 2001 and 2019, which is worse than the 8.7 per cent world average. The mortality rate attributable to air pollution in Ghana is 203.8 per 100,000 population, which is worse than the world average of 132.1.

Also, the average annual mean temperature in Ghana has increased by around 1 degree Celsius with the average of 'hot' days in the country increasing by 13 per cent, while the number of hot nights per year increased by 20 per cent.

"Sea level rise and changing hydrodynamics along the West African coast have led to increased coastal erosion. As a result, weather and climate extremes have increased in frequency and magnitude, triggering floods, droughts, and heat waves that cause human losses, damage to public and private assets, and disruption of economic activities," parts of the report read.

Rising carbon emission in Ghana
Data available also shows that carbon emissions in Ghana are increasing despite the investment made by the successive government.

According to the Environmental Protection Agency (EPA), Ghana, through its revised Nationally Determined Conditions, for climate change first, aims to reduce the emission of greenhouse gases, including carbon dioxide gases, by 64 MtCO2e by 2030.

It hopes to achieve this target through the implementation of 34 mitigation measures. Out of the 34, nine are unconditional measures – would be implemented through government funding – and are expected to lead to a 24.6 MtCO2e emission reduction amount. The remains measures are conditional and depend on external funding from parties to climate change agreements, including the Paris Agreement.

Despite the implementation of the unconditional measure and some of the conditional measures for more than a decade, Ghana's contribution to global carbon emissions has increased from the 0.04 per cent recorded in 2010 to over O.O4 per cent. Carbon emissions increased by 3.54 per cent for the period in question, representing an increase of 495,166 tons over 2015, when CO2 emissions were 13,974,820 tons.




Source: www.worldomers.info.com data, Authors Analysis:

Way forward:

Gideon Ofosu-Peasah, an academic at the University of Ghana, in a study he conducted on Ghana's climate change efforts, indicated that among the major challenges hindering Ghana's climate change efforts are the over-politicisation of government policies and the poor government revenue mobilisation.

He explained that because climate programmes and projects are fused with other developmental projects, they suffer from the abandoned project syndrome, which has become a norm in Ghana.




Ofosu-Peasah is Energy Economist, a Minerals Analyst and a Climate Finance Specialist

He added that the economic challenges in Ghana, particularly the debt overhung of the successive government, make it difficult to fund the unconditional climate policy measures outlined.

Ofosu-Peasah said that for Ghana to make progress, at least with its target under the unconditional policies, measures must be put in place to ensure that the climate change programmes and projects don't suffer from the "abandoned projects" syndrome.
Also, Dr Daniel Tutu Benefoh, an Acting Director at the Climate Change Unit of EPA, in an interview with GhanaWeb, said that the major contributing factor to the rising levels of greenhouse gas emissions in Ghana is the increasing population pressures and the unsustainable utilisation of natural resources to support economic activities.

He explained that as rising population trends and unsustainable economic activities continue, the demand for fossil fuel for transportation and industry, urban sanitisation challenges, land-use changes, bad agricultural practices, and the like also increases, which leads to an increase in greenhouse gas emissions.

Dr Benefoh, however, indicated that Ghana had made efforts to implement its national climate actions through nationally determined contributions, but access to transformational funding still remains a challenge.




Dr Tutu Benefoh at a palmnut farm

He, therefore, stated that the promotion of carbon market instruments in Ghana is among the strategies to mobilise carbon finance to support implementing the priority climate actions. He indicated that the collaborative effort to promote carbon market, which is at an advanced stage, could be a reliable source for raising finances and unlocking economic opportunities for local businesses.

The carbon market, where companies pay for the greenhouse gas reductions they emit by purchasing carbon credits from entities that remove or reduce greenhouse gas emissions; the Acting Director explained it would help Ghana get the needed funds to implement its nationally determined contributions.

Dr Tutu Benefoh explained that the carbon market would allow Ghana to sell its emission reduction to countries that are willing to cooperate with Ghana to achieve its NDCs, and proceeds will be used to further the county's climate change fight.

"We are at various stages of engaging four countries on carbon market cooperation. The countries are Switzerland, Sweden, Singapore and South Korea. Our work with Switzerland has advanced. Cooperation agreement was signed in November 2020, and about twelve projects are being developed by public and private sector companies.

"Our engagements with Sweden and Singapore are progressing steadily with the hope to conclude soon. Discussions with South Korea is at an early stage," he added.

Climate Change Bill, 2023

Also, the Member of Parliament (MP) for the Madina Constituency of the Greater Accra Region, Lawyer Francis-Xavier Sosu, in an interview with GhanaWeb, indicated that one of the reasons Ghana was not making significant strides in the fight against climate change, is the lack of accountability.

Lawyer Sosu, who is co-sponsoring the Climate Change Bill, 2023, with two of his colleagues, Dr. Godfred Seidu Jisaw, MP for Wa East and Samuel Okudzeto Ablakwa, MP for North Tongu, said that the bill would help hold the government account for the emission of greenhouse gases if it is passed.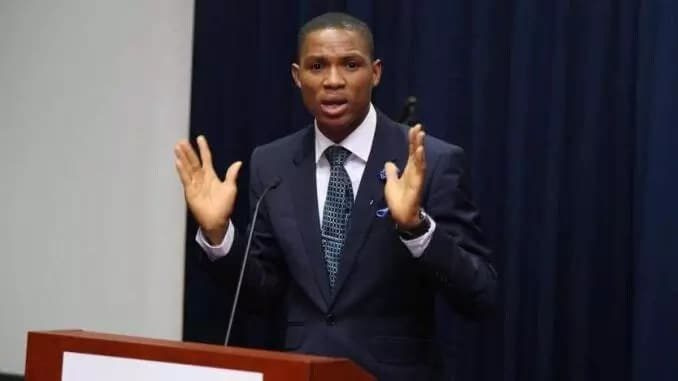 Lawyer Sosu, an MP championing the fight against climate change in Ghana

The MP explained that when the bill becomes law, it will set clear obligations that would be used to hold the central government accountable for the target its sets in the fight against climate change, including emission targets as well as local governments for pollution in their environment, which is absent in current laws and policies governing the climate change fight.

"Under existing laws and regulations, we don't have clear-cut obligations on the state. When it comes to general enforcement of fundamental human rights or allocation of rights, we often say that where there are rights holders, there is also a duty bearer or duty bearers.

"What this new bill seeks to do is to create obligations on the state to ensure a safe environment and to ensure that emission levels are kept low. And so, in any community where by virtue of either corporate, individual or state action we can test and we will know that emission levels are high both individuals and CSOs in that community can take action under this law to hold the government accountable," he said.

This report is produced in fulfilment of the UNESCO & CIJ London Climate Change in News Media project facilitated by the Centre for Journalism Innovation and Development.

You can also watch some climate change interviews done by GhanaWeb below:





Writer: Ishamel Batoma