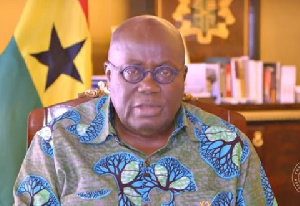 Ghana will not only be healed but will be made whole during the administration of President Akufo-Addo, General Overseer of Power Chapel Worldwide, Rev. Kusi Boateng has proclaimed.
Preaching the sermon at a National Thanksgiving Service organized by the NPP administration in office currently to thank the Lord for a successful election a year ago at the Accra International Conference Centre, Rev. Boateng quoted Luke 17:17-19 KJV And Jesus answering said, Were there not ten cleansed? but where are the nine? [18] There are not found that returned to give glory to God, save this stranger. [19] And he said unto him, Arise, go thy way: thy faith hath made thee whole, and said just like the leper who got healed was minded to come and gives thanks got whole, he is of a strong conviction that to the extend that the leadership of the country has remembered to give thanks, the country will thus be made whole.

The Thanksgiving service was under the theme "O Magnify the Lord with me, and let us exalt His name together. The President Nana Addo Dankwa Akufo Addo, First Lady Rebecca Akufo Addo, Vice President Dr Mahamudu Bawumia, Second Lady Samira Bawumia, Speaker of Parliament, Professor Mike Ocquaye, Justice of the Supreme Court, Justice William Atuguba, Acting Party Chairman of the NPP, Freddie Blay were amongst the dignitaries who graced the service.
President Akufo-Addo in a short remark stated that he and his government are eternally grateful to God for the victory in the December 7, 2016 election.

He added that in spite of the fact that he is in office as President, he believes that the battle for Ghana's development is still the Lord's.