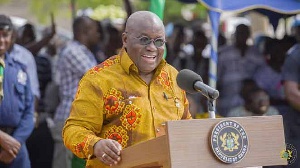 The General Overseer of Power Chapel Worldwide, Rev. Kusi Boateng, has proclaimed that Ghana will be prosperous under the administration of president Akufo-Addo.
Preaching at the National Thanksgiving Service organised by the government on Thursday, he continued the West African country will not only be healed but will be made whole during Akufo-Addo's reign.

Quoting Luke 17:17-19 KJV Rev. Kusi-Boateng said just like the leper who got healed was minded to come and give thanks got whole, he is of a strong conviction to the extent that the leadership of the country has remembered to give thanks, the country will thus be made whole.

"His Excellency Nana Addo Dankwa Akufo-Addo and the NPP party was disadvantaged in terms of finance and there were all indications that it was a very difficult battle. But someway somehow the Bible says that there are many devices in the hearts of men but the council of God shall prevail. His council prevailed.

"And so, if today, his excellency sees the need to say it was not because he was smarter and it wasn't because he had access to money but it was all because the hand of God established it I believe it is right on course," he told the gathering.
The Thanksgiving service was under the theme "O Magnify the Lord with me, and let us exalt His name together".

President Akufo-Addo, First Lady Rebecca Akufo-Addo, Vice President Dr Mahamudu Bawumia, Second Lady Samira Bawumia, Speaker of Parliament, Professor Mike Oquaye, Justice of the Supreme Court, Justice William Atuguba, Acting Party Chairman of the NPP, Freddie Blay were amongst the dignitaries who graced the service.

In a short remark President Akufo-Addo expressed eternal gratitude to God for the electoral victory last year December 7, adding that the battle for the development of the nation is still the lord's.