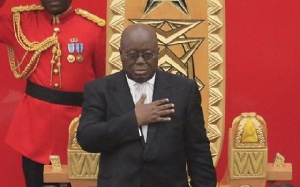 The National Democratic Congress has said that Ghanaians are now experiencing the violent thuggery that was sparked into existence by President Akufo-Addo while he was in opposition.
According to them, President Akufo-Addo supports the negative actions of the vigilante groups affiliated with the New Patriotic Party.

In a report by Ultimate FM, the NDC leadership also accused the president of reaping the benefits from the activities of the group, stating that he used them in intimidating his naysayers in his party, during his time in opposition.

In a press conference on Tuesday, the NDC led by the deputy minority leader, James Klutse Avedzi said, "The deaths, injuries and losses incurred by members of that party are well documented, it had been believed by many that these dastardly acts will cease once the NPP won power and assumed control of the state security apparatus.

Since coming into office on January 7, the Akufo-Addo government has given meaning to the saying that 'leopard doesn't change its spots'. The NPP has been importing wholesale into government, the same acts of violence and lawlessness that marked their time in opposition."
Mr Avedzi further noted that it came as no surprise that the vigilante groups were backed by the leading members of the NPP, and warned the party to watch their steps as the citizens of Ghana were watching.

"Everything that has happened since President Akufo-Addo came to power vindicates our position.

Sadly, Nana Addo sowed this wind of thuggery and terrorism in opposition and Ghana is now reaping the whirlwind," the NDC further stated.