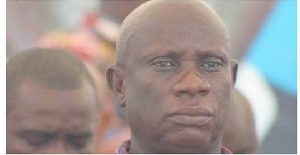 The Deputy General Secretary of the governing New Patriotic Party (NPP), Nana Obiri Boahen, has asked aggrieved persons to seek redress in court if they disagree with the party's reprimand of its Northern regional chairman Daniel Bugri Naabu.
Mr Naabu had in anger accused the Minister of Gender, Children and Social Protection, Otiko Afisa Djaba, the Builsa DCE, and the Upper East Regional Minister of having a hand in the death on the party's Upper East Regional Chairman Adams Mahama.

The NPP's National Executive Council asked him to apologise and bonded him to be of good behaviour. But the opposition National Democratic Congress has described the reprimand as a "charade".

Alhaji A.B.A Fuseini, NDC Member of Parliament for Sagnarigu and Minority spokesperson on Communications, said the allegation by Mr Naabu was serious and should be investigated and not just be retracted.
Private legal practitioner Abraham Amaliba has said that the apology does not end the matter. For him, the apology does not shield Mr Naabu and the law enforcement agency in Ghana must pick him up because his comments were in relation to a murder case.

But Mr Boahen said anybody who is not satisfied with how the NPP has handled the matter can seek redress in court.

He told Class News: "The man said he made that statement without knowing the legal ramification and, therefore, he is sorry and that there is no substance in what he said. This is the admission by Bugri Naabu… The man says there is no iota of truth, 'I cannot substantiate that allegation. That allegation is false baseless and doesn't contain any element of truth, I'm sorry, I render profound apology.' So, what else? Those who hold a contrary view, we don't need to be wasting our time in some of these things… People can seek redress in court if they are not comfortable with Bugri Naabu's apology."