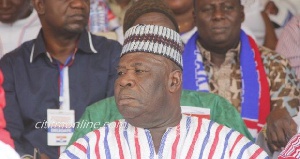 The Northern Regional Chairman of the governing New Patriotic Party (NPP), Daniel Bugri Naabu, has threatened to drag the Minister of Gender, Children and Social Protection, Otiko Afisa Djaba, to court if she fails to provide evidence to the allegation that he is a bribe-taking politician.
Ms Djaba accused Mr Naabu of extorting money, cows and goats from people with the promise to secure them appointments in the Akufo-Addo government in a radio interview after Mr Naabu had interrupted her meeting with some women in the Northern Region on Friday, 5 May.

Mr Naabu in his defence described the meeting as "illegal" and "unconstitutional", because she had not informed him of the meeting. He also alleged that Ms Djaba was meeting with the women to introduce her choice of a new School Feeding Programme coordinator to them, an allegation Ms Djaba has denied.

"He cannot appoint School Feeding people, he's not the only one in the region, he wants to be the one to appoint DCEs, Council of State elders, who and who. …All the things he collects from the people before assuring them [of posts], he should go and give the things back to them. … I want to use your platform to tell him to stop telling lies about me and to stop collecting people's things and promising them jobs that he cannot give and when he goes and does that – after he has collected their money and their cows and goats – then he will come and put the trouble on Otiko. Otiko will not accept it. If Bugri wants trouble from me, then the trouble will come," Ms Djaba told a local radio station in response to Mr Naabu's action.
Mr Naabu, responding to the Gender Minister's allegation in an interview on Accra-based Radio XYZ on Monday 8 May asked Ms Djaba provide evidence he takes bribes.

Mr Naabu explained he only stormed the meeting because "the women wanted to beat her", adding: "She calls them to Accra and when they arrive she says she has cancelled the meeting and a lot of the women complain. Even where to sleep [while they are in Accra] becomes a problem, transportation back becomes a problem, so they've meant her. And I thought the best thing I should do was to come in and tell them to be patient and forget about what she was doing and tell her [Otiko] that what she was doing was illegal," adding: "And she started insulting me that I've taken bribe, I've taken goat, guinea fowl, and cow. I'm coming to find out from her, she should show me the person who gave me money or who I asked for money from. The person who gave me a cow or I asked for a cow from and the person who gave me a goat if I asked for it, I need evidence. If she has no evidence, I'm putting her before court."