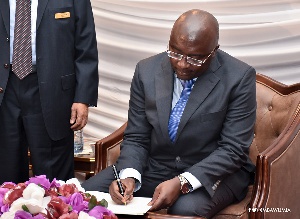 Government will soon release an amount of GH220 million as stimulus package to support distress but viable companies across the country, Vice President, Dr. Mahamudu Bawumia has indicated.
He made the disclosure at the Townhall meeting held in Accra by Accra-based Joy FM to appraise the policies of government in its first 100 days.

According to him, government has intervened in propping up a steel factory that was in distress. "

They closed down in October 2016 over disputed tariffs and we came and brought the parties together.

Within few weeks we had resolved the issue and they reopened. We saved 400 jobs in that company as a result," he said.

The Industrial and Commercial Workers Union, (ICU) has made a strong call on President Nana Addo Dankwa Akufo-Addo to rather focus on restoring the country's collapsed factories first before he sets out to fulfill his campaign pledge to establish new ones.


According to them, any attempts to construct new factories whilst the old ones have been abandoned to rot away would only amount to an industrial catastrophe. The caution came up with emphasis at the union's regional congress held in Bolgatanga, Upper East regional capital.



The Vice President in his statement said, the 1-district 1- factory initiative will give support to viable companies that are near collapse. "We saw also that there as a persistent decline in the number of airlines operating because we saw Airlines like Alitalia, Lufthansa, CitiLink, 540, United Airlines, Virgin Atlantic and Air Namibia leaving Ghana.



"We are trying to make sure that we are the destination of choice in the West African sub-region and I think that Air France has recommenced its operations in Ghana and I hope this is the start for more coming in as we open up our aviation sector," Dr Bawumia said.