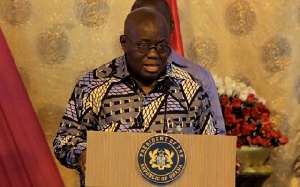 A private legal practitioner, David Annan says it would be practically impossible for the government to succeed in its bid to create four new regions without the support of all other political parties.
The Council of State has approved the President's intention to create the four regions clearing the way for him to set up a commission of enquiry to establish whether there is the demand for the new regions.

The President intends to split Volta, Western, Brong Ahafo and Northern regions in fulfillment of a manifesto promise.

But lawyer David Annan believes the constitutional requirements make it difficult for the attainment of that goal if other political parties are opposed to it.

"It is impossible for a President or government to create a region in Ghana today without the approval or backing of the major political parties," he opined.

David Annan said the outcomes of recent elections show that either of the two major political parties has what it takes to scupper any attempt to create a new region.
"The ruling government in order to get this creation done will need an additional 30 percent which is nearly three-quarters of the vote that the NDC achieved. So it means it will have to sing three-quarters of the NDC base and I can say that given the politics of today that will be impossible," he stated

The lawyer insists the ruling government just wants to be seen to be fulfilling an election or manifesto promise.

"I cannot foresee that they might even reach the 50 percent threshold of the total voting population present and voting and even if they do that I cannot foresee that they will get 80 percent of that 50 percent," David Annan explained.

David Annan is convinced the regions will not be created.

"It's practically done dusted. It's not going to go anywhere in terms of the actual realization of it," he added.