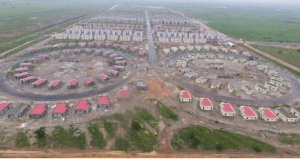 Government intends to build affordable housing units in rural areas nationwide to help address the growing rate of rural-urban migration.
Minister of Works & Housing, Samuel Atta Akyea, disclosed this in an interview on Tuesday when he and his two deputies inspected some housing projects at Tema, which are being supervised by the Tema Development Corporation (TDC).

He said government could have an arrangement in which the investor says he would use all his money to do it and give respite of five years for payment.

The Minister said rural housing projects were urgent, considering the pressure on the major urban centres, especially Accra.

He therefore called on chiefs, who were willing to release lands for 'galamsey,' to release lands for housing.

Some of the projects inspected included the Kaiser Flats at Community 4, where the court has granted permission to TDC to demolish four flats out of the 30 for redevelopment; Site 3, a commercial property being supervised by TDC; the Kpone Affordable Housing Project and the Navar Housing Project where 23 buildings housing 368 flats were about 98 percent complete.

The Minister observed that it was very important to expand the housing projects nationwide to ensure that people, especially professionals like doctors and teachers, were attracted to the rural areas to serve the poor.
He also complained about the high cost of acquiring a decent housing facility in the country, noting that the country's mortgage system do not meet international standards.

For instance, he said mortgage firms were selling homes in dollars while buyers were earning their salaries in the local currency.

Statistics

The country's housing deficit is still quoted at 1.7 million.

Many experts believe that addressing the housing deficit would require some level of support from the central government to the private sector.

The Ghana Real Estate Development Association (GREDA) recently appealed to the New Patriotic Party (NPP) administration to make available a seed fund of $100 million to support the affordable housing drive.
Definition

There is contention among industry players on what constitute affordable housing.

Chief Executive Officer (CEO) of Lakeside Estate believes an affordable house was one that was priced around $80,000.

However, Mr. Atta-Kyei told journalists that "affordability is a factor of your ability to pay," adding that there was a need to bridge the housing gap in the country.

Meanwhile, Managing Director of TDC, Joe Abbey, has said that his outfit would eject squatters occupying flats earmarked by the law courts for demolition and redevelopment.