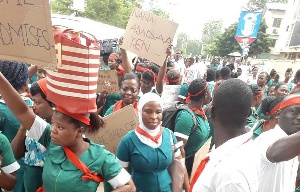 Members of the Coalition of Unemployed Private Nurses (COUPN) have accused the government of discriminating against them with regards to job placement.
According to the group, the Ministry of Health (MoH) and Finance have "not been truthful with us especially on matters concerning the financial clearance and postings of nurses who attended private nursing training institutions."

The group in a statement explained that from 25-27 September 2017, they picketed the MoH day and night and were assured by the Health Minister, Kwaku Agyeman Manu that they would get clearance to be employed.

The private nurses said they were made therefore to undergo verification process which started from 27 February to 9 March 2018 but since then, they have not heard anything positive from the ministry concerning their postings.
Made up of 5280 members, the group said: "We feel cheated and discriminated against because our colleagues who completed public nursing training colleges who were even our juniors and bonded with the government has been issued financial clearance at our blind side…"

The group said the 1992 constitution frowns upon discrimination and, therefore, they will organise a press conference on Monday, 18 March 2019 to lay out their next plan of action which will include a demonstration to press home their demand.