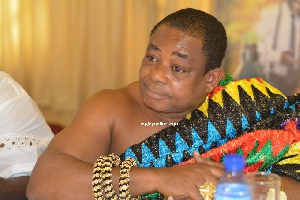 Nana Appiagyei Dankwawoso I, the National President of the Ghana Chamber of Commerce and Industries, has said the private sector is prepared to take advantage of the various opportunities that the government policies would offer to businesses.
He, therefore, expressed optimism that the government's ambition of establishing industrial parks and economic zones in each of the 10 regions to host industries would come with tax exemptions and favourable electricity and water tariff regime that would enhance their competitiveness.

Nana Dankwawoso said this when he delivered an address on behalf of the private sector, at the opening of the Second Edition of the National Policy Summit, organised by the Ministry of Information, in Accra, on Monday.

The two-day summit, which featured the Ministry of Trade and Industry, on the theme: ''The Industrial Transformation of Ghana''.

The platform was created to inform Ghanaians on government strategies to revamp the economy for sustained growth and national prosperity.

The event brought together captains of industry, members of Parliament, the diplomatic community, entrepreneurs, traditional rulers, youth groups and a cross section of Ghanaians.
He urged the participants to actively participate in the event and contribute meaningful ideas that would enhance the various policies outlined by the government for accelerated national development.

Nana Dankwawoso gave the assurance that as government was fulfilling its mandate by way of policies and creating an enabling macroeconomic environment, the private sector would also fulfil its part so that the nation would realise her ambition of becoming the industrial hub of West Africa.

Mr Mustapha Abdul-Hamid, the Minister of Information, earlier in an address, said government did not presume to know everything; therefore, the platform was created to enable it to hear from the people in order to make informed decisions and choices.

"We have our programme alright but we invite your participations, suggestions and criticisms so that at the end of the day as the Akan people say…''Etsirkor N'kor Egyina'' meaning two heads are better than one, to propel the development of our nation," he noted.