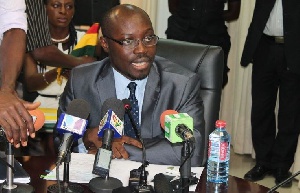 Former Deputy Finance Minister Cassiel Ato Forson has revealed the financial projections of the Nana Addo government are unrealistic.
Speaking to Kweku Temeng on State of Affairs on Ghone television Monday, Mr Forson said "the financial projections of the government is unrealistic and will be exposed by the end of the year."

His comment comes after Finance Minister Ken Ofori Atta presented the mid-year review of the 2017 budget to parliament.

According to the MP for Ajumako Enyan Essiam, the 'Asempa' budget has been revised to 'Asembone' budget.

"Government has failed to achieve its revenue targets. We are cutting down on the budget for goods and services by GHC600 million. We are paying people but they don't have the resources to work with. The budget is being revised from Asempa budget to Asembone budget."
"The expectation was that from q1 to q2 the outturn will be 2.7 billion but the outturn is 2.1 billion which is another cut.

What this means is that there is a shortfall of almost 600 million. Put the two together. Tax revenue and non-tax revenue. The shortfall so far is GHC 2. 7 billion," Ato Forson said.